Description
Kellar Book of Life Table
For a few years, I (Lupe Nielsen) have been avidly dedicating myself to my hobby of Furniture Making. It has been a time consuming avocation, but a highly rewarding one. After many hours and long work it is satisfying to have, at the end, an object of permanence and beauty.
The furniture I am making is mostly done in fine hardwoods, and it is my goal to make the finest heirloom quality pieces possible. The more of them I make, the more I grow and learn as a woodworker. This has been the source of great personal satisfaction.
A few years ago, I attended Mindvention here in Las Vegas, and at a dinner I had a conversation with Eugene Burger regarding woodworking. At the time I was making an Adirondack Chair out of cherry. Eugene then said: "You know what would be an interesting piece of furniture? You could make the Kellar Table on the cover of the Taschen Magic book." Hmmm…There was major food for thought…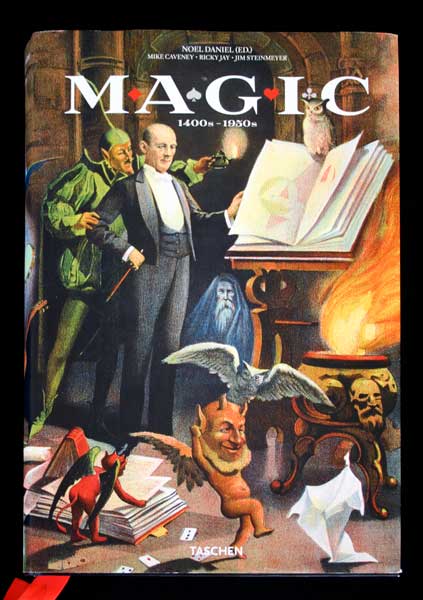 Every magic historian is familiar with the Taschen Book. Pictorially, this book is a work of art as it is the ultimate coffee-table book. Seeing this book takes your breath away. The first edition is a huge book though: It weighs approximately 17 lbs, and it measures 20″ x 12.5″ x 3″. When the book is opened it measures 25 inches across! The type is small, and it is difficult to read. Most magicians purchase it, and because of its size, it remains somewhere in a shelf.
If you look at the cover, you will see that the featured poster is Kellar's "Collage" poster, which displays the various effects he did in his show, plus his "Book of Life". NOTICE THE TABLE upon which that book sits. Eugene's observation was brilliant: "The book cover tells you how to display the book!"
So, in 2011, I decided to do just that. I started the project of building the Kellar Table, with all its details and intricacies, and a couple of months later finished a prototype. The results are just beautiful. The table top measures approximately 22″ x 28″ (large enough to hold the book), and it is approximately 40″ high. The top is hinged, tilts and holds the book at a convenient reading and display angle.
At that time, entire book stand was made out of SOLID African Mahogany, finished with Danish Oil and a coat of Danish Wax. The oil brings out the richness of the wood and grain and the wax seals and protects the piece. The result was absolutely gorgeous. I also mentioned that the book stand would be available in a LIMITED EDITION of TWELVE units. As of November 2015, all twelve tables were SOLD OUT, and as promised I will never make a table in that material again.
Fast forward to 2017, and for the last year and a half people have been asking us: When will you make this table again? Because of the Limited Edition aspect of it, and out of respect for the collectors who have already bought their tables, our answer has been the same: "We can't make this table in Mahogany again."
To keep up with the demand, I have decided to issue another Limited Edition of this piece. This time it will be in a completely different type of wood: CHERRY. Cherry is abundant in the United States as it is a domestic hardwood. It has relatively straight grain, and although it is lighter than mahogany, it darkens beautifully as it ages. Harry Kellar was an American magician, and I can not think of a more perfect material with which to make a Second Edition.
For the future, I plan to make only TWELVE tables in cherry.
Please keep in mind that when making custom pieces out of natural wood, there will always be slight variations in the finished product due to the variations in the wood itself. All measurements are approximate, however the overall design and look shall remain the same.
Should you decide to purchase one, please click on the shopping cart button below. This will be what will happen next:
1) It will take probably two – three months before this item is ready, as they are personally handmade by me (Lupe), unless we have a few already made in stock.
2) Your credit card will NOT be charged UNTIL we start the project.
3) Once we start the project, we will ONLY charge a 50% downpayment.
4) When the table is physically finished and ready to be shipped, we will charge the 50% balance.
You have to admit, this is fair enough! 🙂
Shipping and handling costs are $150 within the United States. Please inquire regarding international shipments.
And yes, it takes many hours of work to make this table. From the cutting, planing, jointing, gluing, routing, assembling and finally finishing it. It is an exquisite piece of furniture that will surely enhance your home or workplace.
The accompanying photographs document only a fraction of the work involved. After the legs are cut, all the edges are routed with a decorative detail. Moulding is made to apply around the box. Most of the hardware is made out of brass, etc. We are very proud of this piece, and know you will be delighted to own it as well.